Bottles' Daughter, Speccy the Mole
Edit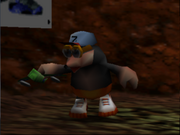 Found in one of the rooms in
Bottles the Mole
's House near
Jinjo Village
, talk to Speccy and she will give you Bottles' prototype
Amaze-O-Gaze Goggles
that allow the player, when in Banjo's eyes, to zoom in and out. This is very useful when shooting eggs from a distance, or looking around a world to find something from a high point in the world, like if you are trying to find something in
Terrydactyland
. You don't actually need the goggles, but they are helpful.
Speccy has a poster of Juno from Jet Force Gemeni, a game by Rareware, hanging in her room.
Speccy's name is a play on the world "Specs" because of her glasses.
Ad blocker interference detected!
Wikia is a free-to-use site that makes money from advertising. We have a modified experience for viewers using ad blockers

Wikia is not accessible if you've made further modifications. Remove the custom ad blocker rule(s) and the page will load as expected.