Isle o Hags
Edit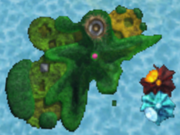 Isle o Hags serves as the hub world in Banjo-Tooie. It is an island with a
twisting mountain complete with a moat
,
a volcano and an ice crater
,
a prehistoric-age land
,
a demented and dangerous theme park
,
a huge lagoon with a glorious underside
,
a gigantic gem mine
,
a Mayan-themed temple
,
a small village that is home to magical creatures
,
a huge anti-environment factory
, and above that all is higher than
where the birds soar in the heavens
.
Unlike Banjo-Kazooie, in B-T, the player can actually leave
Spiral Mountain
and explore the rest of the world. Isle o Hags has 19 worlds total. 9 worlds, plus the 9 worlds in
Grunty's
old lair, and Showdown Town. There are only 9 worlds accessible in B-T, however. Those worlds will be explained in great detail now.
Points of Interest
Edit
Moves Learned
Edit
Collectibles
Edit
Empty Honeycombs
Edit
Ad blocker interference detected!
Wikia is a free-to-use site that makes money from advertising. We have a modified experience for viewers using ad blockers

Wikia is not accessible if you've made further modifications. Remove the custom ad blocker rule(s) and the page will load as expected.